Welcome to Pam's Pantry!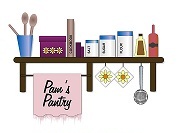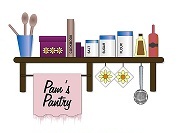 We offer a delectable line of Premium Gourmet Savory Dip Mixes, Cheese Spreads, Fruit & No Bake Cheesecake Mixes, Salsa Mixes, Dressings, Award Winning Chicken Salad Mix, Bar-B-Q, Cracker Seasonings, Bread Dipping Oil Mixes and Pickling Mixes.
Our taste-tempting, delicious, gourmet mixes are guaranteed to be a hit with everyone. Doesn't matter if you are 2 or 92! Kids love us, grownups love us. Everyone loves to dip!
Each and every one of our premium gourmet dip mix packets is hand measured and prepared in our licensed kitchen to give the perfect flavor quality with no added fillers or preservatives. We use only the freshest premium herbs, spices and freeze dried or dehydrated fruits and veggies available!
The best thing about our gourmet dip mixes, besides the fabulous flavors, is the ease and convenience our mixes offer. They make great tasting chip dips, vegetable dips, fruit dips, salsa mixes, cheesecake creations, cheese dips and spreads … that can be prepared in a matter of minutes.
Be sure and check out our recipe page for lots of ways you can use our gourmet dip mix spice packs to make taste tempting main dishes, desserts, and complete meals.
Thank you for visiting us and stop back often to check on new gourmet products, sales specials and recipes.
Thanks for stopping by,
Pam's Pantry
Fresh Picked Flavor!!
What makes Pam's Pantry stand out from the rest?
All of our mixes are hand spooned fresh daily to insure the perfect flavor quality in each packet. We use only the freshest premium ingredients available. Premium herbs, spices, dehydrated and freeze-dried fruits & veggies.
Our mixes are great for those with special dietary needs, most are:
Gluten Free * Sugar Free * Salt Free * MSG Free
Vegan and Vegetarian Friendly
Pam's Guarantee!
We want you to be happy with every purchase you make from Pam's Pantry.
If for any reason, you're not satisfied with any product you purchase from us, please send us an email at pamspantry@comcast.net with a brief description of your concern(s) and we will make every effort to make it right!