Roasted Tomato Baguettes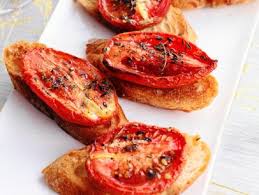 Jump to recipe
Roasted Tomato Baguettes

Ingredients
1 Pkg Pam's Pantry Collin's Garlic Clove
5-6 good sized Garden Tomatoes (thick sliced, at least 1 inch)
1 cup Extra Virgin Olive Oil
Salt & Pepper
Sliced Baguette Bread
Instructions
Slice tomatoes and place in a large bowl.
Combine the Pam's Pantry Collin's Garlic Clove mix with olive oil and mix well.
Pour the olive oil mixture over the tomatoes and stir until all tomatoes are covered.
Place tomatoes in a single layer on a cookie sheet covered with foil and bake for 2 hours at 325 degrees. Your kitchen will smell heavenly.
Depending on the thickness of your slices, you may adjust bake time. Simply peek thru the window and check them periodically. When you see that the juices have pretty much dried up and they are starting to get dark around the edges, they are done.
Lightly toast the baguette pieces
Place roasted tomatoes on toasted baguette slices.
You can add cheese or any other toppings you prefer and place in warm oven to melt cheeses.
Did we say your kitchen will smell amazing? Enjoy!!!
© 2023 Pam's Pantry 2017