Spinach & Bacon Roll-ups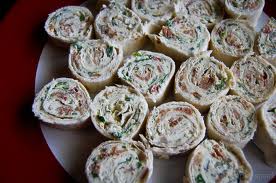 Jump to recipe
Spinach & Bacon Roll-ups

Ingredients
1 Package Pam's Pantry Spinach Surprise
8 oz Cream Cheese
1 cup sour cream
8 oz. bacon, cooked and crumbled
1 c. water chestnuts, chopped
10 large flour tortillas
Instructions
Soften cream cheese in microwave for 1 minute on high.
Mix in package of Pam's Pantry Spinach Surprise
Add sour cream to Spinach mixture and mix well.
Add crumbled bacon and water chestnuts.
Spread mixture on tortillas and roll up.
Place on a cookie sheet, plate or in a pan, cover with plastic wrap and refrigerate for several hours or overnite for best results.
Slice into pieces and serve.
© 2023 Pam's Pantry 2017