Sweet & Sassy Salsa Dorito Dip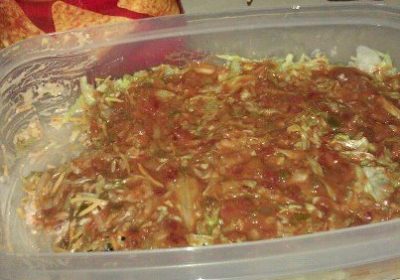 Jump to recipe
Sweet & Sassy Salsa Dorito Dip

Ingredients
1 Pkg Pam's Pantry Sweet & Sassy Salsa
8 oz Cream Cheese
15 oz can Petite Diced Tomatoes
Diced Onion*
1 Lg Can Sliced Black Olives
8 oz Shredded Cheddar Cheese
1 cup Thick & Chunky Salsa of your choice
One-half cup Western Dressing
Lettuce*
Tomato*
Doritos (nacho cheese, taco or ranch flavors were great!)
*NOTE: I did not include quantities on some of the toppings as you can use as little or as much as you like based on your own personal preferences. You can also use whatever toppings you would like. We would like to try with refried beans, seasoned beef, sour cream and peppers!!!
Instructions
Mix the Pam's Pantry Sweet & Sassy Salsa package with 8 oz cream cheese and petite diced tomatoes per directions on package.
Spread out Sweet & Sassy Salsa mix on a large serving tray or 9x13 pan (we used a 9x13 pan). Mix will be thin.
We placed it in freezer for a few minutes to help set up quickly. (We couldn't wait to try it! LOL).
Sprinkle with diced onion, black olives and shredded cheese.
Top with shredded lettuce.
Mix the Salsa of your choice with the Western Dressing and pour on top.
Spread over lettuce with a spoon.
Scoop using Dorito's or your favorite chip and enjoy!!!
© 2023 Pam's Pantry 2017