Frozen Fruit Salad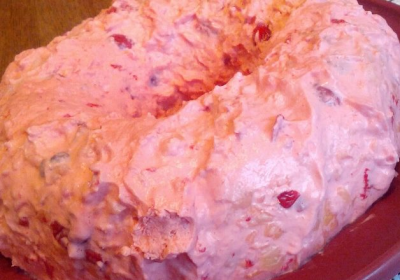 Jump to recipe
Frozen Fruit Salad

Ingredients
1 Package Pam's Pantry Cherry Cheesecake
8 oz Cream Cheese
8 oz Cool Whip
1 16 oz can Cherry Pie Filling
1 16 oz can crushed Pineapple, drained
1 small can Sweetened Condensed Milk
1/4 cup Lemon Juice
Instructions
In a large bowl, combine the Cream Cheese (softened) and Cherry Cheesecake Mix.
Using a mixer, beat well.
Add the Cool whip and mix well.
Add the Cherry Pie Filling, Pineapple, Sweetened Condensed Milk and Lemon Juice.
Mix well,
Spoon into a bundt pan and freeze overnight for best results.
Before serving, remove from freezer and hold bundt pan upside down in sink under as hot of water as possible. I rotated it around for a couple of minutes letting the water hit each spot.
Using a flat spatula, run it down each of the larger indented portions of the bundt pan and the frozen dessert will loosen.
Invert pan on a plate and tap and dessert should pop out on the platter.
Slice frozen and serve.
NOTE: You can use any flavor Pam's Pantry No Bake Cheesecake Mix and any fruit desired. .
© 2023 Pam's Pantry 2017