Linda's Loaded Potato Hash Brown Bake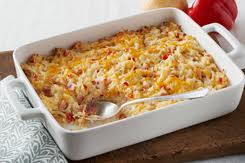 Jump to recipe
Linda's Loaded Potato Hash Brown Bake

Ingredients
1 Pkg Pam's Pantry Linda's Loaded Potato Dip Mix
8 oz Cream Cheese
1 cup Milk
20 oz bag of Ore-Ida Hash browns (or any store brand)
Instructions
Microwave hash browns in bag for 10 mins, 5 mins each side.
Empty hash browns into baking dish.
Microwave cream cheese for 1 minute on high.
Add pkg of Linda's Loaded Potato mix and milk to cream cheese and stir well.
Add cream cheese mixture to potatoes, stir well.
Bake for 20 mins at 375 degrees.
© 2023 Pam's Pantry 2017