Banana Cream Pie Parfaits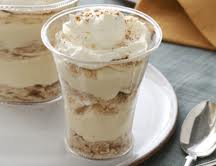 Jump to recipe
Banana Cream Pie Parfaits

Ingredients
1 Package Pam's Pantry Banana Cream Pie No Bake Cheesecake Mix
8 oz Cream Cheese
8 oz Cool Whip
Fresh Bananas (2), sliced
Vanilla Wafers Cookies
Instructions
Mix Banana Cream Pie mix per instructions on package.
Place desired amount of vanilla wafers in a zip lock bag and crumble. (I placed them in a gallon size zip lock bag and rolled over them with a rolling pin. Crushed very easily!)
Layer in Parfait Glasses in the following order:
Crushed Cookies, Banana Cream Pie Mix, Fresh Bananas, Banana Cream Pie Mix, Whipped Topping
Chill and serve.
Above recipe will fill 4 large dessert parfait dishes. Quantity of cookies will vary based on size of dishes and how thick of a layer of cookie crumbs you want. . .
© 2022 Pam's Pantry 2017