Banana Nut Muffins with Banana Cream Pie Frosting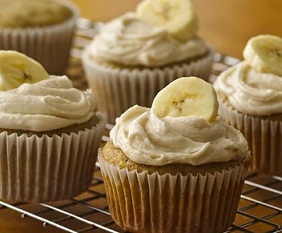 Banana Nut Muffins with Banana Cream Pie Frosting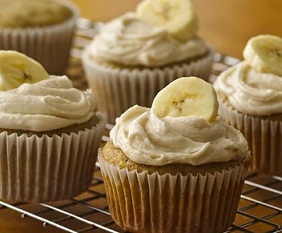 Ingredients
Banana Nut Muffin Ingredients:
2 cups flour
One quarter cup sugar
1 Tablespoon baking powder
One half teaspoon salt
Three quarter cup mashed bananas
1 cup milk
1 egg, beaten
One third cup vegetable oil
One half cup chopped walnuts (optional, in case of allergy)
Banana Muffin Frosting Ingredients:
1 Pkg Pam's Pantry Banana Cream Pie
12 oz Cream Cheese
4 oz Cool Whip
Instructions
Pre-heat oven to 400 degrees.
Blend flour, sugar and baking soda in a medium bowl.
Add remaining ingredients in a second bowl and mix together.
Pour mixture into the bowl with dry ingredients.
Mix together lightly.
Put paper muffin cups into a muffin tin.
Spoon batter into muffin cups.
Bake muffins for 15 minutes.
Check for doneness with a toothpick.
Bake a little longer, if the tooth pick does not come out clean.
While muffins are baking, soften cream cheese in microwave for 1 min on high.
Stir in the package of Pam's Pantry Banana Cream Pie Mix.
Add cool whip and beat with mixers.
When muffins are baked and completely cooled, frost with Banana Cream Pie mixture.
Can sprinkle with some of the chopped nuts!
P.S. Also pretty yummy with our Caramel Nutter Butter as frosting!!!
Pam's Pantry 2017