Caramel Peanut Butter Cup Chocolate Dessert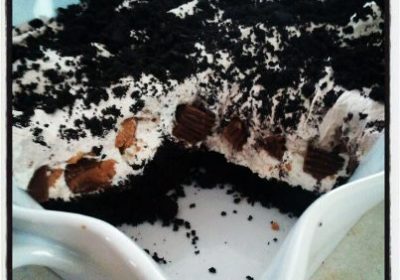 Jump to recipe
Caramel Peanut Butter Cup Chocolate Dessert

Ingredients
1 pkg Pam's Pantry Caramel Nutter Butter no bake Cheesecake
1 pkg Pam's Pantry Chocolate Cream Pie
2 8 oz cream Cheese
2 8 oz Cool Whip
2 Oreo Cookie Pie Crusts (redi-made)
20 Miniature Reese's Peanut Butter Cups
NOTE: To create the Oreo layer, you can either crush your own oreo cookies, use the boxed Oreo Cookie crust crumbs, if you can still find them, we have trouble finding them, or buy 2 redi made Oreo Cookie Pie crusts (This is super easy route to go)
Instructions
Dump the Oreo Cookie Pie Crusts into a 9x9 baking dish and pat it down to an even layer.
Keep about 1/4 of one of the crusts for toppings.
Microwave 1 block of cream cheese for a full minute on high
Using a hand mixer, add the package of Pam's Pantry Caramel Nutter Butter and blend well
Add one 8 oz container of Cool Whip and blend with mixers until well blended.
Spoon the mixture onto the Oreo crumbs and create a level layer.
Cut up the Peanut Butter Cups and spread them out on the Caramel Nutter Butter Layer. We cut each miniature cup in half and then each half in 3 pieces for a nice bite size piece. You can do more or less, depending on your preference.
Mix the Chocolate Cream pie with the Cream Cheese and Cool Whip, per instructions on the package and make an even layer over the peanut butter cups.
Take the remaining Oreo pie crust crumbs that you set aside and sprinkle them on top. Refrigerate until dessert is chilled all the way thru. Can place in the freezer for a quick set.
© 2023 Pam's Pantry 2017