Grilled Dilled Salmon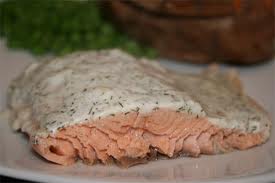 Jump to recipe
Grilled Dilled Salmon

Ingredients
1 package Pam's Pantry Definitely Dill dip mix
Salmon, raw (up to 3 lbs)
1 cup mayonnaise
1 cup sour cream
Heavy Duty Tin Foil
Instructions
Mix the Pam's Pantry Definitely Dill pack with 1 cup mayo and 1 cup sour cream.
Place raw salmon on heavy duty tin foil
Smother salmon with dip mixture, coating all sides of the fish.
Close foil and place on grill.
Turn fish pack occasionally, and check for doneness by opening a small portion of the foil.
When fish has completely cooked, remove from grill, open foil and serve.
© 2023 Pam's Pantry 2017