Gudrun's Great Glaze Meatloaf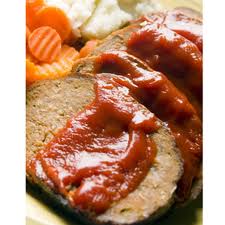 Jump to recipe
Gudrun's Great Glaze Meatloaf

Ingredients
1 Package Pam's Pantry Gudrun's Great Glaze
1-1/2 cups Ketchup
3 lbs Hamburger (raw)
Instructions
Combine the Gudrun's Great Glaze packet with the 1-1/2 cups Ketchup
Mix approx. half of the glaze mixture directly into the 3 lbs raw burger.
Be sure to mix well. Place in loaf pan and bake at 350 degrees until center is well cooked. The remaining glaze mix can either be saved for future use, or, you can drizzle a portion of it on top of the meatloaf and place back in the oven an additional 10 minutes. Slice and Serve.
© 2023 Pam's Pantry 2017