Mellie's Mexi Mix Baked Taco Dip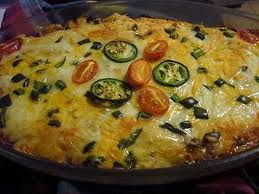 Jump to recipe
Mellie's Mexi Mix Baked Taco Dip

Ingredients
(can be served Baked Hot or Cold, pictured is our baked version)
1 Pkg Pam's Pantry Mellie's Mexi Mix
1 Pkg Khory's Kickin' Salsa
8 oz Cream Cheese
8 oz Sour Cream
15 oz can Tomato Sauce
8 oz pkg Shredded Taco Cheese (or cheddar cheese)
1 can Sliced Black Olives
15 oz can Refried Beans
Shredded Lettuce
Tomatoes, chopped or diced
Jalapenos
(Can use any of your favorite toppings, the sky is the limit)
Instructions
Combine Tomato Sauce with Pam's Pantry Khory's Kickin' Salsa mix, refrigerate for several hours.
Soften 8 oz cream cheese in microwave, stir in package of Pam's Pantry Mellie's Mexi Mix. Add 8 oz sour cream to mixture, refrigerate for several hours.
Directions to Assemble Layered Dip:
On a pizza pan, or in a glass baking dish, simply layer the following ingredients, spreading evenly: Refried Beans, Mellie's Mexi Mix and Shredded Cheese, Olives and Jalapeno's. Bake until warmed thru and cheese is melted. Top with Lettuce and Tomatoes. Serve with sour cream and salsa on the side. Best with Scoops chips!
© 2023 Pam's Pantry 2017