Stuffed Cabbage Leaves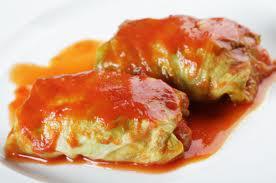 Jump to recipe
Stuffed Cabbage Leaves

Ingredients
1 pkg Pam's Pantry Mellie's Mexi Mix
8 large cabbage leaves
1 lb ground beef
2 cups soft bread cubes
one-half cup chopped onion
2 eggs
1 15 oz can tomato sauce
Instructions
Parboil cabbage leaves for 5 minutes.
Combine beef, bread cubes, onion, eggs, and Mellie's Mexi Mix.
Form meat into oblong patties.
Place a meat patty onto each cabbage leaf.
Roll up the cabbage leaf and fasten with toothpicks.
Place stuffed cabbage into a skillet and add tomato sauce.
Cover and cook over low heat for 45 minutes. Serve hot.
© 2023 Pam's Pantry 2017