Stuffed Green Peppers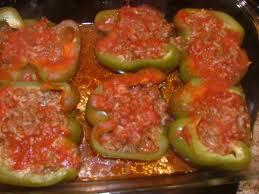 Jump to recipe
Stuffed Green Peppers

Ingredients
1 Pkg Pam's Pantry Mellie's Mexi Mix
6 Green Bell Peppers
1 med to large Sweet Onion, chopped
1 lb lean Ground Beef
1 cup uncooked White Minute Rice
Salt and Pepper to taste
3 cans Tomato Soup
NOTE: If you are using very large peppers, you may need to use a little more hamburger and rice.
Instructions
Wash Peppers, cut the tops off and remove the seeds. Rinse the cavity.
Blanch peppers in boiling water for 2-4 minutes, or put in a container of hot water and blanch them in the microwave.
Don't let them get to soft or they will break as you stuff them.
Allow peppers to cool slightly so that they are easier to handle and stuff.
Cook minute rice as instructed on the box.
Cook hamburger and onions in a frying until hamburger is browned.
Drain off any excess grease and add the packet of Pam's Pantry Mellie's Mexi Mix to the browned hamburger and onions.
Add salt and pepper to taste.
Preheat oven to 350 degrees.
Mix hamburger and rice together.
Stuff mixture into the peppers. Be careful not to break the peppers.
Place stuffed peppers in a casserole dish, open end up.
Pour tomato soup over and around the peppers. (Do not add water or milk to the soup).
Bake in the oven for 30-40 minutes. Serve piping hot!!
Variations:
If you like it hot: Use Pam's Pantry Jalapeno Dip Mix or Tasha's Texas Twister mix instead of the Mellie's Mexi Mix.
For Cheese Lovers: Add shredded cheese to the top after it has cooked for 15 minutes.
For Garlic Lovers: Add 1-2 chopped cloves of garlic to the hamburger/rice mix.
For Meat Lovers: Add a little extra hamburger and use less rice.
© 2023 Pam's Pantry 2017