Sweet & Sour Crockpot Chicken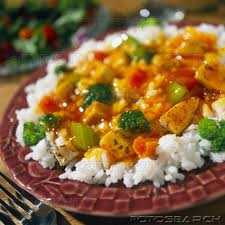 Jump to recipe
Sweet & Sour Crockpot Chicken

Ingredients
1 package Gudrun's Great Glaze Mix
1.5 lbs. Boneless, Skinless Chicken Breast
12 oz Ketchup (1 and half cups)
1.5 cups Chicken Broth, Fat Free, reduced Sodium
1 large Sweet Yellow Onion
1 large Green Bell Pepper
Instant Rice (4-5 cups)
Instructions
Remove any excess fat from chicken breasts and cut into strips.
Slice onion into approximately one-quarter inch slices and then cut each slice into quarters so that you have good size strips of onion.
Slice Green Pepper in half, remove core and seeds and slice into strips, cut strips in half.
Empty the package of Gudrun's Great Glaze into the Crockpot.
Add the 12 oz of Ketchup (1 and half cups) to the crockpot and stir.
Add the 2 cups of Chicken Broth and stir.
Add the onions and peppers and stir.
Add the chicken pieces and stir.
Let mixture simmer in crockpot until chicken is cooked thru. Can cook all day, will not hurt mixture.
Cook instant rice, spoon chicken & onion/pepper broth over rice, serve.
© 2023 Pam's Pantry 2017