Chocolate and Peanut Butter Nutter Butter Pie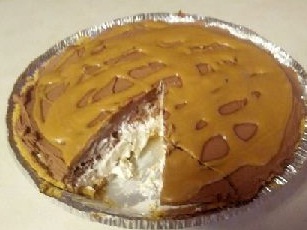 Jump to recipe
Chocolate and Peanut Butter Nutter Butter Pie

Ingredients
1 Pkg. Pam's Pantry Caramel Nutter Butter
8 oz Cream Cheese
8 oz Cool Whip
Graham Cracker Crust
1 Stick Unsalted Butter
5-6 Oz Chocolate Chips
2-3 T Peanut Butter (depending on your preference)
Instructions
Prepare Pam's Pantry Caramel Nutter Butter per directions on the package and spoon into graham cracker Crust.
Place in freezer while preparing Chocolate topping.
In a pan on the stove on low heat, melt the stick of butter and add the chocolate chips.
Stir until mixture is smooth and creamy and well blended.
Pour into a mixing bowl and refrigerate until back to room temp and slightly solid.
Using beaters, beat chocolate until light and fluffy.
Frost pie with Chocolate mixture.
Melt Peanut Butter in a small dish in the Microwave for 1 minute on high
Drizzle on top of pie and refrigerate for a few minutes till set. Slice and Serve.
© 2023 Pam's Pantry 2017