Cookies & Cream Lasagna Dessert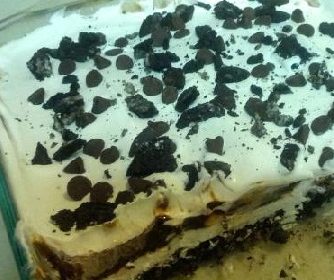 Jump to recipe
Cookies & Cream Lasagna Dessert

Ingredients
1 Pkg Pam's Pantry Cookies N' Cream
8 oz Cream Cheese
2 - 8 oz Cool Whips
1 pkg Oreo Cookies
4 T Butter (melted)
Chocolate Chips (enough to sprinkle on top)
Instructions
Mix the Pam's Pantry Cookies N' Cream per directions on the package.
Crush about 20 oreos (more or less depending on how thick you want your bottom crust).
Add 4 T butter to the crushed oreos and pat into the bottom of a 9x9 dish.
Spoon the Cookies N' Cream mixture onto the oreo crust.
Add a layer of Cool whip and then crush a few more oreos and sprinkle with crushed oreos and chocolate chips.
Refrigerate until set, slice, serve and enjoy!!!
© 2023 Pam's Pantry 2017