Death by Chocolate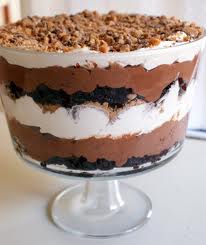 Jump to recipe
Death by Chocolate

Ingredients
1 Pkg Pam's Pantry Chocolate Cream Pie
1 Box Brownie Mix
8 oz Cream Cheese
2, 8 oz Cool Whips
Instructions
Prepare brownies per instructions on package in a 9x13 pan and let cool. Mix
Pam's Pantry Chocolate Cream Pie per instructions on package and chill
Remove brownies from pan and break into small chunks.
In a glass dish, layer approx half of the chunked brownies
Fost with half of the Chocolate Cream Pie mix,
Spread with half of the Cool Whip.
Set aside a few chunks of the brownies that are left and add a layer the remaining brownies
Add another layer of the chocolate mix and cool whip.
Finely crumble the set aside chunks of brownie and sprinkle on the top layer of cool whip. Chill and serve.
© 2023 Pam's Pantry 2017