Fruit Cream Poundcake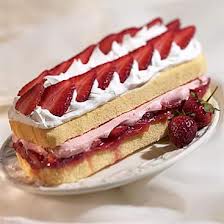 Jump to recipe
Fruit Cream Poundcake

Ingredients
1 pack of any flavor of Pam's Pantry Fruit dip/No Bake Cheesecake Mix
8 oz cream cheese
2 8 oz cool whip containers
1 Pound Cake Loaf (baked or purchased)
Fresh Fruit of your choice
Our favorite is Strawberries N Cream for a Strawberry Shortcake type dessert.
Instructions
Place pound cake in freezer and chill for easy slicing.
Mix the Pam's Pantry Fruit mix per instructions on package and chill
Slice the pound cake in two layers
Slice your fruit if needed.
Spread the Cheesecake Mix on the layers and add your fruit or berries
Place slices in the freezer until set well
When ready to serve, place the layers on top of each other and frost with remaining mix or cool whip and add more fresh fruit.
Best if kept in the freezer or fridge for slicing purposes. This yummy treat can be made with the flavor of your choice and any fresh fruits!
© 2023 Pam's Pantry 2017