Lemon Lime Poke Cake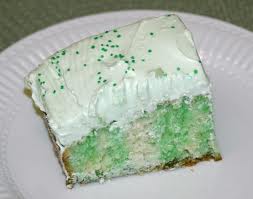 Jump to recipe
Lemon Lime Poke Cake

Ingredients
1 Pkg Pam's Pantry Lemon Drop Cheesecake Mix
1 package Lemon Cake Mix
1 large package Lime jello
8 oz Cream Cheese
8 oz Cool Whip
Instructions
Bake cake in a 9x13 pan according to directions on the box
While cake is baking, make Pam's Pantry Lemon Drop mix per instructions on package.
For best results, use a mixer to beat the Lemon Drop mix.
When cake is done, remove from oven and allow to cool for 15-20 minutes.
While cake is cooling, mix jello according to directions, and allow to cool but, do not chill.
Using one of the beaters from the mixture, use the end to poke holes into the cake
Poke holes about an inch apart, all over the cake
Holes should go all the way through to the bottom of the pan.
Pour cooled jello on top of the cake. The jello will seep into the cake through the holes. Place cake into the refrigerator for 3-4 hours, so the jello will set.
Remove cake from refrigerator and top with the Pam's Pantry Lemon Drop mixture. Keep refrigerated.
NOTE: You can use any flavor cake, jello or Pam's Pantry Fruit Dip/Cheesecake Creation for Frosting. The sky is the limit!!!
© 2023 Pam's Pantry 2017