Mini Cherry Cheesecake Parfaits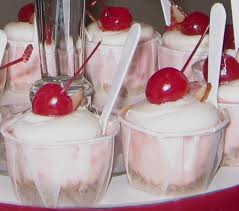 Jump to recipe
Mini Cherry Cheesecake Parfaits

Ingredients
1 pack Pam's Pantry, no bake Cherry Cheesecake Mix
8 oz cream cheese
16 oz cool whip
Graham Cracker Crumbs
Cherries with Stems
Instructions
Soften cream cheese in microwave for one full minute on high.
Using mixers, add the Cherry Cheesecake Mix and blend well.
Add 8 oz of the cool whip(save 8 oz for layering) and beat until mixed well.
Follow directions on the box for the graham cracker crumbs to make desired amount (depends on size of parfait glasses and quantity that you want to make.)
Spoon Graham Cracker Crust mix into dish
Spoon desired amount of Cherry Cheesecake mix
Frost with remaining cool whip and drop a sweet juciy cherry on top!
© 2023 Pam's Pantry 2017