Pineapple Passion Sponge Cake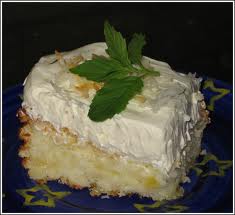 Jump to recipe
Pineapple Passion Sponge Cake

Ingredients
1 PKG Pam's Pantry Pineapple Passion
8 oz Cream Cheese (can use light or fat free)
8 oz Cool Whip (can use light or fat free)
1 Betty Crocker Angel Food Cake Mix
(use this if possible, everything is already in it and it works best)
1 15 oz can Crushed Pineapple (undrained)
Instructions
Mix cake mix and undrained pineapple together in ungreased 13x9 pan.
Don't be surprised when it gets foamy.
Bake in preheated 350 oven for about 25 minutes or until golden and springs back when touched in middle.
Mix Pam's Pantry Pineapple Passion per directions on package.
Cool Cake completely and frost with Pam's Pantry Pineapple passion.
Can decorate with pineapple slices, fresh fruit, a dollop of cool whip or just dig in and eat it as is!!!
ENJOY. . .THIS IS SCRUMPTIOUS!
© 2023 Pam's Pantry 2017