Strawberries N Cream Stuffed Berries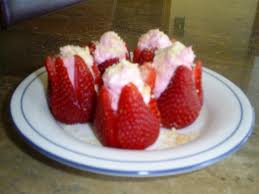 Jump to recipe
Strawberries N Cream Stuffed Berries

Ingredients
1 Pkg Pam's Pantry Strawberries N Cream (or any flavor desired)
12 Oz Cream Cheese
8 oz cool whip, divided
2-3 lbs of Berries
Graham Cracker Crumbs (optional)
Instructions
Soften the cream cheese in the microwave for 1 full minute on high.
Add the Pam's Pantry Strawberries N Cream and blend well using a hand or tabletop mixer.
Add 4 oz of cool whip.
Place in frig or freezer for a quick set.
Clean and slice berries in both directions forming a criss-cross on the top
To add the filling use a cake decorator with a good size frosting tip and shoot the filling into the berry.
Top with a small dollup of cool whip and you can sprinkle some graham cracker crumbles if desired.
NOTE: If you don't have a decorator set or frosting bag, put the cheesecake mixture into a large zip lock bag, cut off one corner (small hole) and then squeeze the filling out into the berry.
© 2023 Pam's Pantry 2017