Strawberry Pretzel Dessert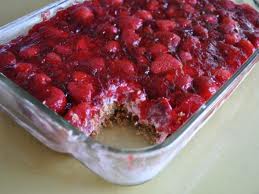 Jump to recipe
Strawberry Pretzel Dessert

Ingredients
1 pkg Pam's Pantry Strawberries N Cream
8 oz Cream Cheese
8 oz Cool Whip
2 cups crushed pretzels
3 T brown Sugar
1-1/2 sticks melted butter
1 large box Strawberry Jello
3 cups water
1 lb Strawberries, sliced
Instructions
Preheat oven to 350 degrees.
Mix the Strawberries N Cream pack per instructions on package and chill.
Combine the pretzels, brown sugar and melted butter and stir well.
Press into the bottom of a 9x13 pan and bake for 15 minutes. Let cool.
Add 2 cups boiling water to the Strawberry Jello and stir.
Add 1 cup cold water, stir and place in the fridge until it starts to thicken.
Once the jello is setting up, add the sliced berries.
Spread the Pam's Pantry Strawberries N Cream evenly over the cooled pretzel base
Pour the jello and berries mixture on, spread evenly and return to the refrigerator to chill.
Chill for at least 4 hours.
© 2023 Pam's Pantry 2017