Britt's Blueberry Buckle Torte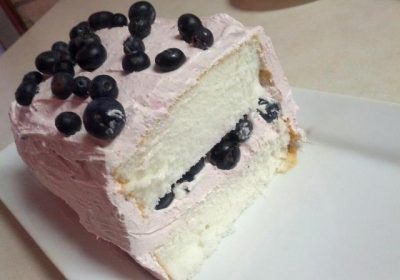 Jump to recipe
Britt's Blueberry Buckle Torte

Ingredients
1 Pkg Pam's Pantry Britt's Blueberry Buckle
8 oz Cream Cheese
8 oz Cool Whip
Sm container fresh Blueberries
1 Angel Food Cake Loaf (bought at Grocery Store)
Instructions
Place angel food cake loaf in freezer, it is easier to cut if cold or frozen.
Prepare Britt's Blueberry Buckle per instructions on package.
Cut Angel Food Load in half and set one half aside.
Place on plate, frost with Blueberry Buckle mixture and cover with a layer of fresh blueberries, save some for the top.
Place cut half back on top of blueberry layer and using a spatula, frost the entire torte starting with the top and then each of the 4 sides.
Drop fresh blueberries on top.
Refrigerate until well chilled, slice and serve.
© 2023 Pam's Pantry 2017